The high marginal tax rates created by phasing out the personal allowance are back in the news.
'A million to pay 60% income tax within years,' ran a recent headline in The Sunday Telegraph. The next day The Times picked up on the same story with the article 'Inflation may leave million more workers paying 60% tax'. 

Whether either article counts as 'news' is debatable. The 60% income tax rate (or 61.5% on earnings in Scotland) has been around, in one form or another, since 2010/11.
It is not, as The Times suggested, the result of 'a glitch in the personal allowance regime' but was the product of a carefully crafted piece of legislation. At the time, the aim was to raise extra revenue while keeping the threshold for the newly introduced 50% additional rate tax at £150,000.
The newspaper articles indirectly highlighted that:
The £100,000 threshold at which the personal allowance is tapered has been unchanged since 2010; and
The personal allowance has almost doubled since 2010, resulting in a £25,140 band of income in which the 60% rate can bite.
Both factors mean that more taxpayers are being caught as incomes rise over time.
The one piece of good news is that if you are hit by 60% income tax you may also be able to claim 60% tax relief on pension contributions or gift aid.
New data from HMRC reveals there are now over six million people paying higher or additional rate tax in the UK.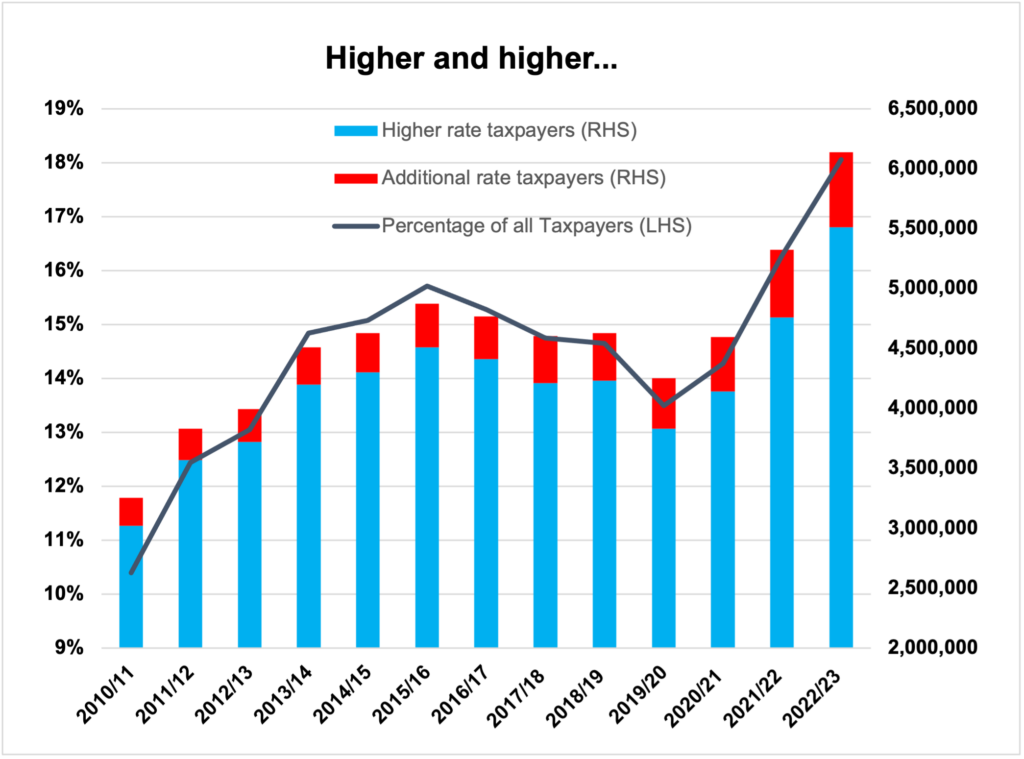 In recent years, the end of June has been the time for HMRC to issue its annual statistics on taxpayer numbers. This series is more up to date than some of HMRC's releases and includes a projection for the current tax year.
The latest set of data received more press attention than usual for several reasons:
The number of income tax payers jumped by 1.3 million (4%) for 2022/23, the largest increase since 2004/05.
Higher rate taxpayer numbers rose by 750,000 (16%), an increase unmatched in over 30 years of HMRC data. 
The population of additional rate taxpayers grew by 66,000 (12%). When the additional rate of tax was introduced in 2010/11, only 0.75% of taxpayers were in this lofty band, a proportion that has since grown to 1.75%.
Add together higher and additional rate taxpayers and the total exceeds 6.1 million, over one in six of all income taxpayers.
This means there are more taxpayers than ever before and more of them are paying higher and additional rates due to a combination of two main factors:
The then Chancellor Rishi Sunak's decision in March 2021 to freeze the personal allowance, higher rate and additional rate thresholds from 2021/22 through to 2025/26. In fact, the additional rate threshold has never moved from its initial £150,000.
Inflation has been vastly higher than anticipated back in March 2021, when the CPI rate was running at 0.7% (a year, not a month) and the Office for Budget Responsibility (OBR) was projecting that it would not reach 2% until 2025. The OBR's projection for total inflation over the four years from the start of 2022 to the end of 2025 was 7.7%, a figure that is almost certain to be below what 2022 alone will deliver.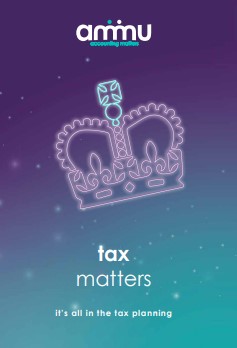 The winner in all of this is the Treasury, so much so that there is now talk of tax cuts being announced in the Autumn Budget, if not sooner. As with July's 'tax cut' in National Insurance contributions, any new income tax cut will be a reduction in the size of the previously planned increase.
Meanwhile, if you have become a higher rate taxpayer this year, you should make sure you are using all available reliefs and allowances to the full. The one piece of good news is that tax relief on your pension contributions has potentially doubled.
Our guide to helping you to manage your personal, business and family tax affairs as efficiently as possible is available to you to download.
If you would like a copy sent to you in the post, please drop us a line: info@ammu.uk
Tax Matters 2022-23 >download pdf copy
UK Business and Personal Tax Rates 2022-23 >download pdf copy