We're delighted to welcome Wendy McBride from Chiene+Tait to our growing Ammu team. Wendy is joining us as our new Tax Executive and will be leading and developing our tax department.
About Wendy McBride
After earning her degree from the University of Dundee Wendy continued her professional development by completing the tough ATT qualification. Wendy embarked on an accounting career with a prominent firm on the East Coast. Within her 13-year career, she developed a specialty in personal tax, inheritance tax, and corporation tax. She has excelled in the specialism of tax and gained 4 promotions.
Wendy is a wonderful addition to our team and will lead and strengthen Ammu's tax department. She will be proactively helping you and providing reassuring support. Wendy is ready to help with every aspect of your tax situation from advisory to compliance and helping with trusts and tax efficient planning.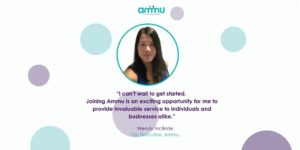 Wendy said: "I'm delighted to be joining Ammu as I see the vision Jane Grant and Simon Murrison have to bring valuable services to personal and business clients" says Wendy McBride. "I can't wait to get started."
Wendy can help you with:
Inheritance Tax Planning, Individuals & Trusts
Family Business & Corporate Tax Planning
Family Investment Companies
HMRC Enquiries and Compliance Checks
Director Remuneration Package Planning
Enterprise Investment Schemes – HMRC Clearance
PAYE Payroll Health Check
Residence Status for Individuals
Capital Allowance – Structure and Building Allowance
Visit our Tax Services to find out more.
Meet Wendy
We thought it would be fun to get to know more about Wendy and what makes her tick. So we asked about her interests and some little-known facts.
Wendy said 'I love keeping fit by running and fitness classes – despite completely lacking  co-ordination. I also enjoy the outdoors so go cycling and hill walking with my husband Craig. I'm looking forward to travelling again to discover different cultures and experience new foods to inspire my passion for cooking. A lesser known fact is I have a terrible sense of direction. Doesn't matter how many times I go to a place I still need to ask my personal sat nav, Craig.
My one big dream is to have a dog one day. '